Dichtheitsprüfung
Leak testing is at home in many different industries, from the automotive sector to thermal or medical technologies, and is a crucial part of the quality control. Leak tightness is the decisive factor and criterion for a large number of products. We are concentrating on our core competencies in helium and ultrasonic leak testing.
The helium leak test is a fast and process-reliable semi or fully automatic test method that can be used for reliably detection and localization of even very small leaks. And that both in the laboratory and in large-volume series production.
The universally applicable ultrasonic leak test is the new dimension of gas bubble detection in the water bath. This is an objective, worker-independent, semi or fully automatic leak test method for industrial series production. A particular advantage is that the leakage points can also be automatically localized very precisely.
Contract leak testing: A reliable service from MACEAS
At work for our customers and the environment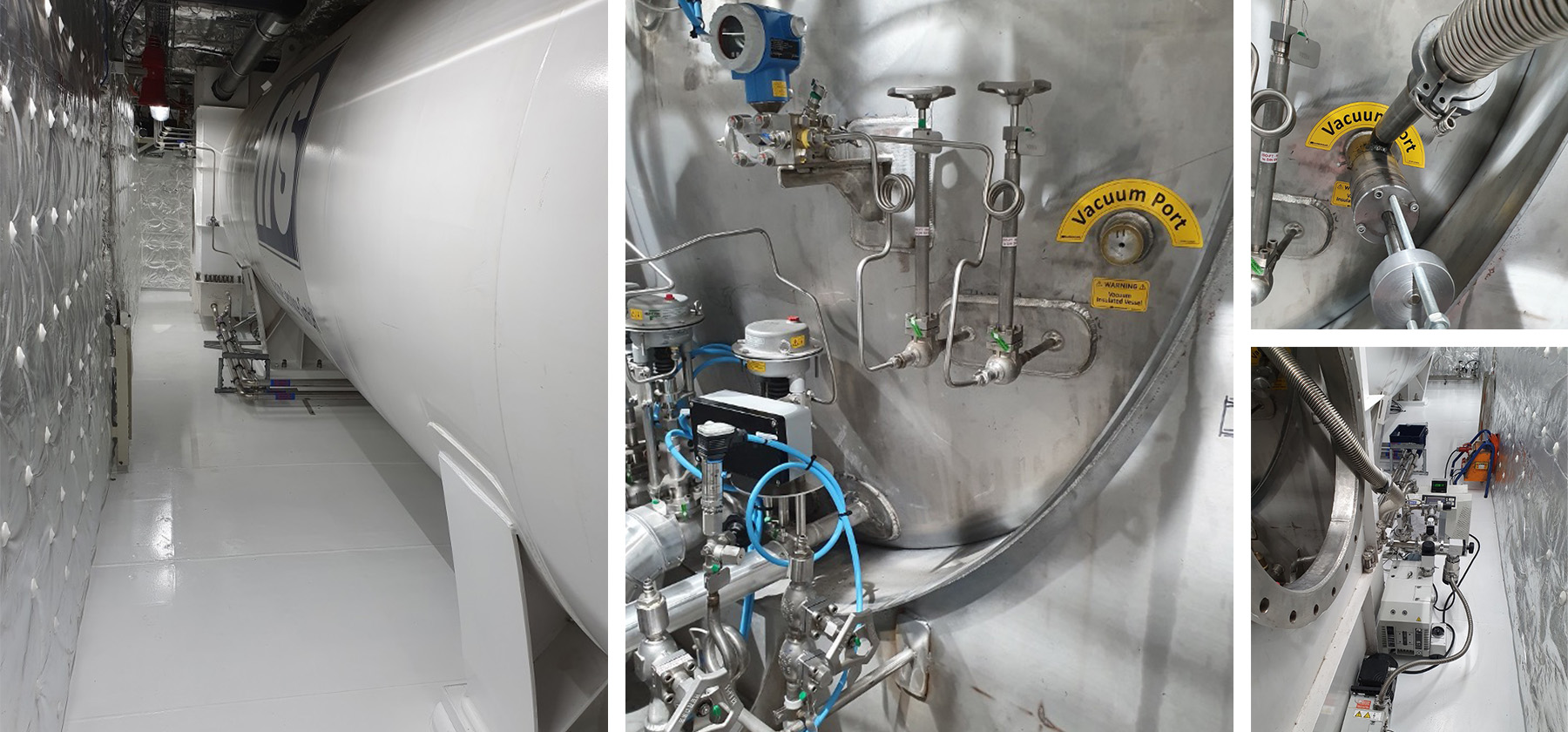 The new ferry ship in Europe, the "FS RICHMOND" of Stadtwerke Konstanz GmbH on Lake Constance, is the first inland passenger and ferry vessel in Europe with high-speed pure gas engines, which can be operated with bio-LNG in a greenhouse gas-neutral manner.
As part of the commissioning of the new LNG ferry ship "FS RICHMOND", the MACEAS service team was commissioned by Stadtwerke Konstanz GmbH to check the insulation tank of the ferry's vacuum-insulated double-walled LNG tanks for leaks.
Source: www.stadtwerke-konstanz.de | Photo: www.now-gmbh.de
Width: 13,4 m
Weight: ca. 840 t
Passengers: 700
Vehicles: 64 cars
Power: 2 x 746 kW
MACEAS also offers its customers the possibility to test parts, components, samples, pre-series, etc. for tightness. Two test stations with corresponding test chambers are available for this purpose. Please do not hesitate to contact us!
From tailor-made design to finished leak testing machine
Leak testing systems for series production
Various sensors are used for leak testing in series production. An extremely important point is that in leak testing procedures, it is not uncommon to mention the detection limit of the sensor but not the detection limit or detectable leakage rate of a leak testing system or device. The determination of the leakage rate of a leak testing system always depends on the respective application and test object. There are several methods in the field of leak testing. Which leak test method is the right one always depends on the type of application. The following overview shows the most frequently used sensors and their detection limits.
What is measured / detected?
10–8 mbar ⋅ l/s
(Idealized examination in a laboratory measuring unit)
What is measured / detected?
10–8 mbar ⋅ l/s
(Idealized examination in a laboratory measuring unit)
What is measured / detected?
10-4 mbar ⋅ l/s at 1 Pa, 0,1 l volume and 10s
2,6 x 10–5 mbar ⋅ l/s in 20s
What is measured / detected?
10–8 mbar ⋅ l/s
(Idealized examination in a laboratory measuring unit)
What is measured / detected?
10-4 mbar ⋅ l/s at 1 Pa, 0,1 l volume and 10s
2,6 ⋅ 10–5 mbar ⋅ l/s in 20s
What is measured / detected?
10-4 mbar ⋅ l/s at 1 Pa, 0,1 l volume and 10s
2,6 ⋅ 10–5 mbar ⋅ l/s in 20s
Leak rate according to DIN EN 1330-08
The leak rate is the pV throughput per unit of time of a certain fluid through a leak under defined conditions:
qL: p: V: t:
Leckrate Druck Volumen Zeit
SI unit: Pa · m3 / s Common unit: mbar · l / s 1 Pa · 1
m3/s = 10 mbar · l/s
The defined conditions necessarily include:
| | |
| --- | --- |
| pi: | Internal pressure (absolute) |
| pa: | External pressure (absolute) |
| Fluid: | e.g .: air, He (100%), water, etc. |
| T: | Temperature |
Why this definition?
For incompressible fluids (liquids) there is a fixed relationship between volume and mass (number of particles) over the constant density:
| | | |
| --- | --- | --- |
| | V: m: ρ: | Volume Mass Density |
For compressible fluids (gases), the volume varies greatly with pressure and temperature at a constant number of particles. A general definition of the amount of substance released (number of particles or mass) is therefore better. With the ideal gas equation then applies:
oder


p: V: N: kB: m: R: T:
Pressure Volume Number or particles Boltzmann's constant Mass of particles
special gas constant Temperature
Helium leak test
There are two different methods of helium leak testing. On the one hand the helium leak test under vacuum and on the other hand the helium leak test in the atmosphere. While the detection of the helium gas flowing out of the leak with a mass spectrometer always requires a high vacuum in the mass spectrometer (p <10-4 mbar), helium sensors are now also available that no longer require a vacuum. However, much smaller amounts of helium can be detected with the mass spectrometer than is the case with other sensors.
Helium leak test under vacuum
A mass spectrometer is required as a sensor for this method. The helium atoms are ionized with the help of an electron beam. The now electrically charged particles are directed onto a circular path in a magnetic field. The radius of the circular path depends on the mass of the particles. Only particles of a certain mass get through the slit in the diaphragm. These then generate an electrical current at the detector.
Measuring principle – test system / device
The vacuum test chamber and test part are evacuated. Then the test piece is exposed to helium or a He mixture. The previously existing vacuum in the test part ensures that the test gas is evenly distributed. After a certain vacuum has been reached in the test chamber, the mass spectrometer is switched on and the measurement is carried out. With a sniffer probe, the leakage can then possibly be localized in the atmosphere. Since only larger leaks can be detected with the sniffer probe, it may well happen that no leak is found. An alternative to locating the leak is to check it in a water bath.
Helium leak test under atmosphere
Measuring principle – WiseTM sensor
With the help of a maintenance-free helium sensor (e.g. T-GuardTM), an increasing helium concentration can be measured in a test chamber even at atmospheric pressure. The actual sensor consists of a quartz membrane that is only permeable to helium and a permanently evacuated glass tube (see tube television), as well as an anode ring and a cathode plate. At a concentration of 5ppm helium, a current of 2-10-10A flows.
Measuring principle – test system / device
With the help of fans or a circulation, in the event of a leak (helium flows into the chamber), the most homogeneous possible distribution in the chamber is created. This is necessary because otherwise leaks at different points would result in very different readings.
Reliable localization and detection of leaks
With the ultrasonic leak test, leaks can not only be detected, but also localized using the optional ultrasonic bubble detection system. This method is more reliable than the worker water bath test (the so-called underwater visual test), since even the smallest air bubbles can be detected and localized by the ultrasonic bubble detection system, which are barely or not at all visible to the human eye are.