Reliably detect and localize leaks with a helium leak tester
Helium leak test systems were first used in 1942 as part of the so-called Manhattan Project. This was the birth of helium leak test. Today, helium leak testers are among the most established and accurate methods of leak testing in series production and in the laboratory. In addition to helium leak testing in a vacuum, which requires a high vacuum in the mass spectrometer, helium leak testing under atmosphere using helium sensors is now also used.
Helium leak test in a vacuum
Detection limit of a mass spectrometer:
10–12 mbar ⋅ l/s
Working range leak testing system:
10−3 – 10−7 mbar ⋅ l/s
Helium leak test under atmosphere
Detection limit of the sensor:
10–6 mbar ⋅ l/s
Working range leak testing system:
10−2 – 10−4 mbar ⋅ l/s
Both leak tests can be fully automated. An automated leak detection system can either be fully automated by means of robot handling or the parts handling is carried out manually by the worker. In both cases, the leak test is always automated.
Your benefits at a glance:
Helium leak test for fuel cell plates
A main part of the fuel cell are the bipolar plates. It is very important for the process that the bipolar plates are leak free and no gas can pass the intended process because of leakages.
We have developed a helium leak test to check the plates. This device is able – with the specific tooling – to test single plates as well as bipolar plates.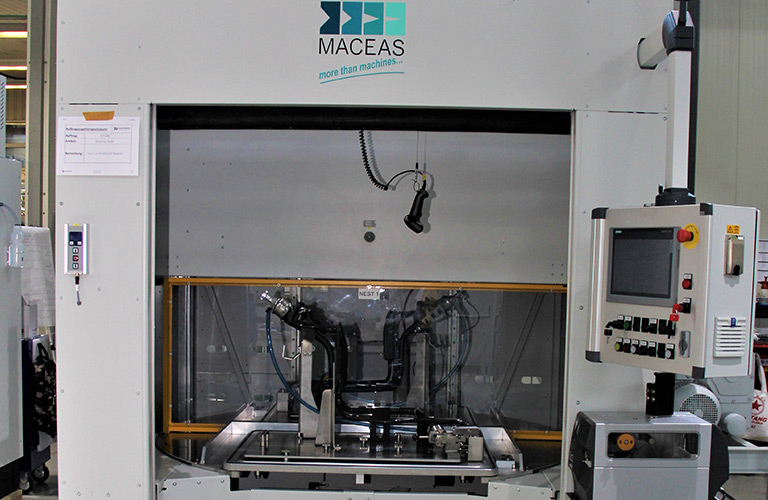 The helium leak test is ideally suited to check filler pipes or fuel tanks with filler pipe for leaks. It is an objective, reliable and dry leak test. The dry leak test method avoids additional work steps and prevents the components from being wetted with water. Furthermore, the helium leak test can also be used for the smallest leak rates.